---
Bring your Polar Lights 1:350 Star Trek Klingon Kronos One to life with this professional-grade lighting kit. Featuring a TenaControls board that provides realistic internal, navigation and strobe lighting, a glowing impulse engine, and audio-activated front and rear torpedo blasts, this detailed kit offers a slew of impressive features and realistic effects to make your model stand out.
Klingon KRONOS ONE Lighting kit. (Lighting Kit Only-Model kit not included)
TenaControls Brings Models to Life! Add life to your Polar Lights 1:350 scale Star Trek Klingon Kronos One Model Kit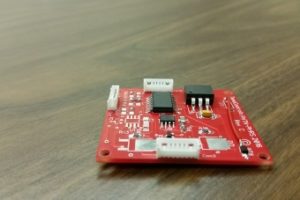 All the connections to this board are done to the 8 wire mating connectors.
In this Kit TenaControls  provides all the Navigation Lighting, all the  Strobe Lighting, Glowing Impulse Engine, Internal Lights, Front Torpedo and Rear Torpedo with built in audio sound of the sound. This board is powerful, yet small enough to fit just about anywhere you feel comfortable placing it inside the ship.
The Front Torpedo and Rear Torpedo when activated to fire will illuminate the Torpedo tube before starting the firing. The front Torpedo will fire three bursts, rear Torpedo will fire two burst. How cool is that!
Includes:      
One (1) fully assembled Control board

One (1) 9 volt Power Adapter

Six (6) 3 mm White LED's

Two (2) 3 mm Red LED's

Three (3) 5 mm Red LED's

Two (2) 3 mm Amber/Orange LED

One (1) 3 mm Orange LED

One (1) Red LED Strip pre-wired
Three (3) White LED Strips pre-wired
Two (2) Green LED Strips pre-wired

Wiring and shrink tubing for the LED's  

One (1) Speaker

Two (2) Momentary switch

Wiring Instructions

Best warranty in the business – 

5 Year Warranty

Made in the USA
---