---
Navigation/Strobe/Deflector Dish/Impulse Crystal/Nacelle Chiller Grills
The 1701-1K is now available to anyone that is serious about building the best into their own Enterprise.
Add life to your 1:1000 scale Star Trek Enterprise 1701-A.  All the connections to this boards are made to the micro JST connector and attached wires.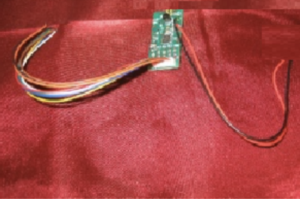 This is why we say this is the complete board. The board is designed to provide all the Navigation Lighting, all the Strobe Lighting, the Navigational Deflector Dish, Impulse Crystal ramp up from Amber to Blue. When in the Blue ramp up mode the Nacelles Chiller Grilles will also ramp up and stay on until the Blue ramp down feature is activated, which will cause the Nacelles Chiller Grilles to also ramp off.  
One (1) completely assembled Board

One (1) momentary switch

One (1) 1.8mm Green LED

One (1) 1.8mm Red LED

Six (6) 1.8mm White LED

One (1) 3mm Amber/Blue Bi-Color LED

One (1) 5mm Amber/Blue Bi-Color LED

Two (2) Blue LED Strips

Five (5) Resistors

Wiring  for internal connections

Shrink tubing for one leg on each LED

Wiring Instructions

Best warranty in the business – 

5 Year Warranty

Made in the USA
Important:  No interior or window lighting supplied with this kit.  This board will also work on 12 volt DC supply.
Item#  1701-1K  (model kit not included)
---